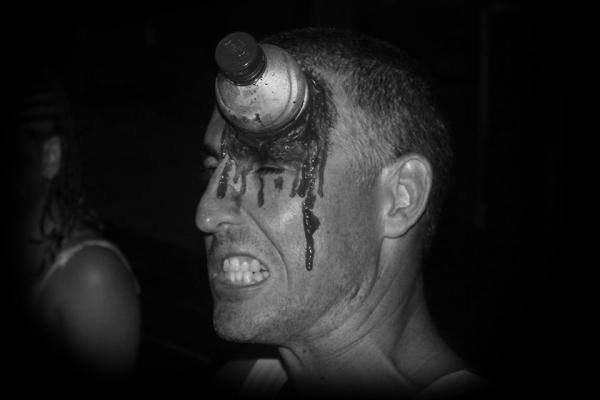 We get a lot of questions via email and by phone here at the Lab. So, in an effort to quell the ever questioning mind, the mad doctor has compiled a list of commonly asked questions and answers to put your mind at rest.

How much is entry?

AS OF THE 3RD MARCH 2018 - Entry will be 500THB for Adults, and 300THB for children under 12 years old. Tickets will be available at the Frankensteins Laboratory Phukets office between 9am - 5pm (located next door to the venue in OTOP)  or at the entry door when arrivng. Tickets can also be purchased at various participating Tour Booth Outlets around Patong. VIP CARDS will also be available. 

How much is the show?
The show and all entertainment is inckuded in the ticket price at Frankensteins Laboratory Phuket. 

What time are the shows?
In our Phuket venue, we currently have 3 different shows every night, Show 1 at 8.30pm, Show 2 at 9.30pm and Show 3 at 10.30pm.
Do you have shows on every night of the week?
Yes. 7 days a week. A list of the shows for the day is posted on our face-book page daily -www.facebook.com/frankensteinslaboratoryphuket

Can we eat dinner during the show?
Yes. Frankensteins kitchen is open from 6pm - 11pm daily.

Can we stay for all of the shows in each session?
Yes. Once you have booked the table for a session, the table is your for as long as you want it. You don't have to leave after the first show so you are free to party all night with for the whole night.

What is the best time to book in?
We recommend that you book in between 6pm - 8pm, so that you dont miss out on any of the zombie action!

How much is the face-painting?
Please see our menu's for more details! The price will range between 150THB and 350THB depending on the style.
Do we have to book for face-painting?

No. Face-painting tickets are issued to tables at the start of the night. It is a first come, first served ticket system for face-painting. So if you would like to get face-painting done, you need to book your table early as tickets go fast (book your table before 7pm). We have a limit of 30 tickets per night per session(as face-painting by our artists is labour intensive we can only do 30 faces per session!) - Please also note that Kids will always take priority over adults when it comes to face-painting services, due to the massive amount of children that attend our family friendly venue, adults will be offered tickets once all of the little monsters have been painted first!
​

Is the face-painting safe for skin and or childrens skin?

Yes. All of our products are non-toxic and have a 99% non-reaction rate in most types of skin. All of which is easily removed with soap and warm water or make-up wipes. Obviously if you (or your children) have sensitive skin, it is at your discretion as to whether you should get your make-up done.

How long does Face-painting take?
Anywhere between 5-12 minutes depending on the style and detail of the make-up.


Can we split bill?
NO! Sorry guys. We will not in any circumstances, split bills on a table. It is both an inconvieniance for us - and honestly just a pain in the ass. If you require a pen, calculator or assistance with paying your bill at the end of the session, our staff are happy to help. Our advice to you to make it easier for paying bills on large groups - Pay for your drink as you go at the bar, instead of ordering drinks at your table. This will make it easier for you to split your meal bill at the end.

What is your address?
237/6 Ratuthit Booth 3 200 Pee Rd, Patong, Phuket - Located in the OTOP Shopping Paradise District, Patong.

How long does is take to get to Patong from Karon or Kamala Beach?
In a taxi, roughly 10-15mins depending on the traffic. And roughly 15-20mins during busy traffic. A tuk tuk will get you from either area for roughly 200-300THB each way. A metered taxi will also cost you about the same price.

Do you have an age restriction for children?
No. We welcome guests of all ages. The shows are appropriate (and not that scary) for children as young as 2 years old. Obviously if you think your child will be scared at Frankensteins, it is at your discretion whether to bring on them not. Parental guidance however is recommended.

How can I make a reservation?
You can make a booking 2 different ways at Frankensteins Laboratory. Please see our Contact Us Page or our Reservations Page. We prefer to get email bookings and or our online booking form, so we can send a booking confirmation to our guests. PLEASE NOTE: Email reservations for the same day stop at 5pm. All reservations for the same day being made after 5pm need to call the restaurant on +66 76 685 055

When should I book?
In Bali, Frankensteins Laboratory has become a very popular restaurant. Every night at the Lab is booked out often days before. So to ensure a booking, contact us at-least 5-7 days in advance (during high season 10-14 days in advance). We expect, Frankensteins Laboratory Phuket to book out in a similar time frame. For the best seats in the house, you must book early - priority of best seats is given to those who book in advance (and we have many advance bookings often 3 months ahead) 

Can we dress up in fancy dress to come to Frankensteins?
Of course. We love seeing our guests get into the spirit of the Lab. So please feel free to come dressed in costume on the night!

Do you have high-chairs for young children?
Yes

Is your restaurant smoking or non-smoking?
Frankensteins Laboratory Phuket is a non-smoking venue - and believe it or not, despite the common misconceptions about Phuket, ALL restaurants in Phuket are non-smoking by law (however non-enforced!!) However, we do provide a smoking section outside the venue for those who wish to satisfy their urges - just no smoking inside the venue! (and sorry guys, this includes e-cigarettes and vapes!)

Can we see the entertainment from every seat in the house?
Yes. Our shows are very interactive and all of our entertainment moves into the crowd. The furtherest away table is only 15m from the stage. You are not bound to your table, so if you can not see the show, you are free to move about the venue to find a better vantage point if needed.

Do you have air-conditioning?
Yes. An we are a fully enclosed building. However, Phuket is a very hot place. And located in the tropics. And Frankensteins at times can get quite warm, especially when we have a full house. Frankensteins provides sufficient cooling methods for the venue, so if needed, please dress appropriately for the temp.

Do you serve gluten free options on your menu?
Yes. Most Celiacs know what they can and can't eat. Most of salads are gluten free, as is our Pork Chop, if ordered without sauce. Please see our menu for more details.

Can you cater for people with food allergies? 
Yes. We are happy to modify our menu items to cater to your food allergies. 

Do you do anything special for birthday guests?
Absolutely!! We always love to spoil our birthday guests, we wont give-away what it is we do for our birthday guests, but rest assured we always go out of way to make our birthday guests feel special.


Can you arrange Birthday Cakes through Frankensteins?
The answer to this one is a no, however, there are some amazing cake specialists and bakeries in Patong (close by the venue) that can make a custom cake suit your needs - and we won't even charge you a cake-age fee! So Google away and find the bakery of your choice!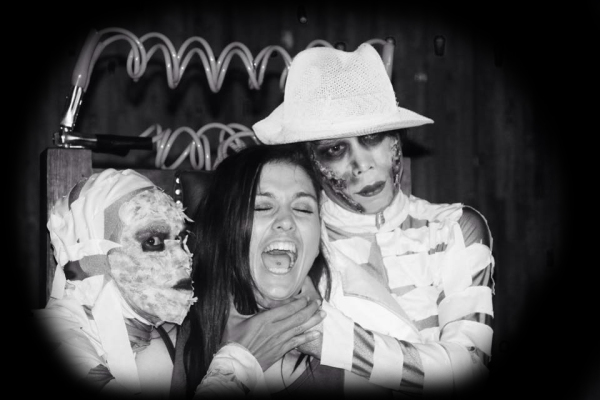 Are your salad and food items washed and or cooked with with tap water?
No. Frankensteins uses spring water to wash all fruit and vegetable items prior to use. We also only use spring water in the preparation and cooking of our food. Spring water is bloody cheap in Thailand- in-fact it only costs $4 (AUD) for 19L of spring water here - so rest assured, why would we use anything else?
Is your ice safe to consume?
Yes. Popular belief that ice is not safe to consume in Phuket is a myth. All ice in Phuket is made from Natural spring water, or UV treated water - not tap water. Even the locals don't drink the tap water.  


Who is performing when?

In Phuket we have our flagship group of entertainers - The Dancing Dead perform 7 nights per week. The Dancing Dead perform a variety of theatre style dance shows including Michael Jackson Thriller, Rocky Horror Picture Show and Beetlejuice themed shows. 

Do you have the sames shows every night?
During the first few months of Frankensteins Laboratory Phuket, Yes we will have the same shows every night. Much like Bali, new shows will be introduced over the next few months.